Save the Date: Visit the DOE IP at SNMMI!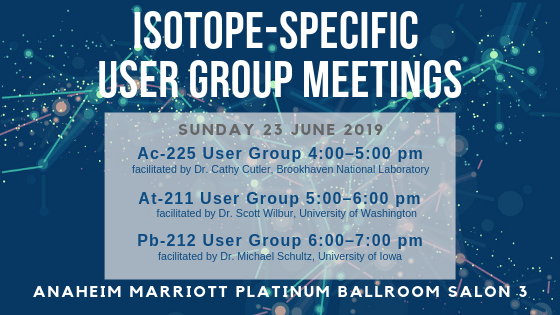 SNMMI 2019, Anaheim, CA
SNMMI is Right Around the Corner...
We would like to invite you to join the U.S. Department of Energy Isotope Program (DOE IP) for breakfast as we host an Isotope Program Overview meeting on Monday, June 24th at 7:00 am. The Director of the DOE IP, Dr. Jehanne Gillo, will present an overview of the program and discuss the availability of new isotopes and planned development efforts.

In addition, the DOE IP will host three isotope forum meetings during the event. The purpose of the meetings is to encourage free discussion and collaboration by users of Pb-212, At-211, and Ac-225 and to address issues or questions amongst peers. Stay tuned for more details on the forums in an upcoming announcement.
Continuing Education Session: Radionuclide Production
In addition to the program overview and forums above, the DOE IP has organized and will moderate a technical session on Tuesday, June 25th from 3:00 to 4:30 pm.

Topics & Techniques in Radionuclide Production: The Science that Happens Before Radiolabeling will include discussions on various radionuclide production methods including cyclotrons, e-linacs, high-energy proton linacs, and reactors. The session will be delivered by postdoctoral researchers and early career scientists from the Isotope Program, discussing their own exciting and significant studies into the production of medically relevant isotopes. 

Make sure you don't miss out!
---
One-on-One Stakeholder Meetings

The DOE IP will be conducting "one-on-one" stakeholder meetings again this year during the SNMMI conference.

These meetings offer a great opportunity for the isotope community to personally discuss isotope supply and demand issues with the DOE IP Director, DOE program managers, and the National Isotope Development Center staff.

To inquire about a one-on-one meeting with the DOE IP, contact Karen Sikes or call 865-574-8404.
---


An educational, scientific, research, and networking event in nuclear medicine and molecular imaging. This conference provides physicians, technologists, pharmacists, laboratory professionals, and scientists with an in-depth view of the latest research and development in the field as well as providing insights into practical applications for the clinic.